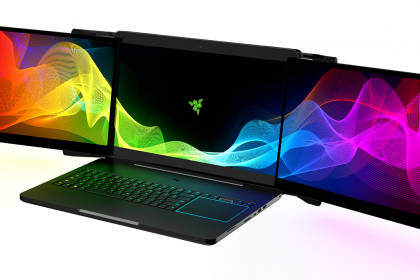 New innovation in Laptop
New innovation in laptop which looks promising in 2017 featuring 3 screen laptop and touch screen for Apple lovers.
1. Touchscreen MacBook 2016
AirBar is now available for MacBook Air 13-inch models.
The innovative gadget, which was named an Innovation Awards Honoree at the CES 2017 expo in Las Vegas, brings touchscreen capabilities to standard Apple laptop displays.
AirBar allows MacBook Air owners the chance to experience the same touchscreen functionality that Windows 10 machines have enjoyed for years.
Apple did introduce some touch functionality in its latest MacBook models.
The 2016 MacBook Pro ships with a small multi-touch display, which replaces the traditional function key row at the top of the keyboard, and allows Apple users to manipulate some functions with touch. Dubbed Touch Bar, this touchscreen strip is actually an independent Retina display and is therefore capable of changing its appearance based on whatever applications appears on screen at the time.
EXPRESS NEWSPAPERS
The Touch Bar adapts to whatever app is currently on your screen
For example, draft a message in Mail and you'll get the option to send it to the recipient with a quick tap on the bar.

Write a letter in Pages and you'll get instant access to formatting options – or switch to Messages and you'll get every emoji you could ever wish for just one tap away.

Meanwhile, the AirBar lets you manipulate objects directly on the laptop display.

The magnetic sensor attached to the bottom edge of the MacBook display and charges via USB.
AIRBAR
The AirBar attaches to the bottom of the display and emits an invisible light field
AIRBAR
The nifty new gadget connects to the MacBook Air via USB, where software sorts the gestures
The nifty gadget emits an invisible light field that allows standard screens to receive input from hand gestures, these are also transferred via the USB connection, where software interrupts the gestures into common commands.

AirBar was previously only available for 15.6-inch Windows laptops.

But starting today, Apple MacBook owners will be able to place a pre-order for the $99 device, some £80 converted, with delivery expected by March.
2. This three-screen laptop
There you were, living in a reality where laptops had a single screen. And then the 2017 Consumer Electronics Show happened, and suddenly a paradigm shifted.
Behold:
That's right, folks: Razer is taking the bold step of not just doubling, but outright tripling the number of laptop screens. This is Project Valerie, a super bizarre concept from a company known for making very nice, very expensive gaming hardware
There are rockers holding each screen in place when in the three-screen setting:
It looks like a kind of massive laptop when it's all closed and folded up:
3. This massive $9,000 laptop
There isn't much to say about the Acer Predator 21X beyond the obvious.
First teased at the IFA trade show in September, the gaming notebook is getting a full reveal at CES 2017 in Las Vegas this week. Acer says it'll cost an obscene $8,999 when it's available in February.
In short, it is as different as that price tag would suggest. I was able to briefly test the behemoth earlier this week, so here's a closer look. It's hard to say the curved screen immediately adds anything to the notion of using it, but when you're sitting that close, it doesn't take much away either. It's mostly there to feel excessive.
The Predator 21X uses a latest-gen Intel Core i7-7820HK chip — which is close to as powerful as those get today — two top-end Nvidia GeForce GTX 1080 graphics cards, a whopping 64 GB of RAM, up to four fast 512 GB solid-state drives, and a 1 TB hard disk drive.
You can upgrade the RAM and storage through a little compartment below the display, but on paper, there shouldn't be a game that this thing can't run quickly. It's not going to be the coolest or quietest notebook, though that should go without saying.
It technically uses Cherry MX Brown switches, but the point is it feels great — fast, comfortable, and responsive. Its RGB back-light can also display a bunch of different colors. Just know it's going to be loud.
4. Toshiba Shows 360-Degree Hinge
Toshiba finally launches its very first convertible laptop with the 360-degree hinge at CES 2017. It has stopped making consumer notebooks long time ago and have been regrouping its business line. Now, it has come up with an amazing technology that can be a huge competition for other big names in the tech industry.