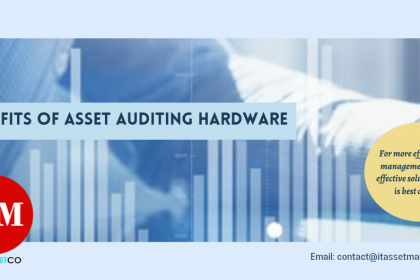 Every organization owns assets & so it becomes important to conduct hardware audits to improve the functionality & long life of assets. To maintain the asset's life and to avoid issues like human errors, ineffective process controls, improper functionality, and more. Asset auditing hardware is an effective way to track and manage a range of business assets. It can simplify asset audits and track operations effectively.
Hardware asset management is the process of managing IT components like desktops, laptops, servers, etc. throughout their lifecycles from procurement to retirement. With the hardware asset management process, you can get real-time details of your hardware asset inventory. A bird's-eye view of the asset life cycle, and an overview of how assets are used in your organization.
IT asset audit hardware enables your business to lead control on the system, manage tasks, resource implementation, and more. Asset hardware life cycle
IT Asset management managing the asset lifecycle. They will customize the solution that is required as per the need. The audit management solutions are quick and easy and allow to manage assets through audits. It enables you to get customized, accurate data, reporting, manage physical inventory, and more. To access better results, real-time reports, and interactive team coordination, asset audits can help to achieve these goals.
What an asset auditing hardware can help you achieve following goals
Asset auditing hardware can make sure assets are maintained efficently and their maintenance costs for assets they no longer a burdenthem efficiently.
Make you aware about the Ghost assets that your organization have. Maintaining them if , possible bring out the best value of asset.
Some of the suspicious assets that posed security threats. The aim of asset auding hardware is to maintain them regularly.
Process gaps with assets not being tracked correctly.
Calculating the depreciation value of the assets on time.
Evaluating the systems and processes currently in place that work to secure company data.
Determine the potential risks and find ways to minimise risks.
Safeguarding assets and ensuring they are maintaining on time.
Check the information management process, is it maintaining standards.
The reasons below describe how asset auditing hardware can tackle business management:
Hardware audits are an assessment and analysis of hardware devices, hardware assets to make sure they function well and are in working condition. Reasons that make the hardware audit job more important, because of the following reasons:
Visibility to Make Decisions for
Asset auditing hardware enables to improvise asset visibility IT needs to make informed decisions critical to the organization. By consolidating this data in a centralized, you can begin making the changes you need to sustain your business and stay ahead of the competition.
To centralize data and IT asset
Maintaining, tracking, managing, and functionality of assets are taken care of by hardware asset audit. With an asset management tool, you can merge multiple data sets, centralize data, and real-time data management to manage assets efficiently.
Avoiding Unnecessary Technology Purchases
One of the major benefits asset auditing hardware gives to your business is, it scans in your assets is the ability to uncover exactly how many devices are there and connected to the assets. Keeping capital expenditures under control, keep track of what you have. For example, let's say an executive has an older laptop that hasn't been returned after upgrading. This could lead to making an unnecessary hardware purchase for new employees. This lack of visibility into how many devices are on hand can easily lead to unnecessary purchases simply due to the absence of data.
Manage Baseline inventory
To manage assets in your organization and to locate the inactive assets, disconnected, not functional, and auto-discovery tools. Understanding what assets are with your organization, their compliance if required, and figure out the time for their maintenance. Without establishing an accurate baseline analysis, you can't maintain a strong foundation for IT Asset management.
Planning and to make informed decisions
Change is inevitable and planning to be prepared for the challenges. To understand the hardware asset your organization, have, accusation events, business consistency, future purchases planning, optimization. Calculating the asset deprecation value, redeploying assets and all the tasks is possible for regular audits. Performing regular audits of assets can make you utilize the assets more efficiently for business productivity.
Lessen security or compliance gaps
Ways to maintain compliance and security for the assets. To maintain assets hardware, software, data and security, updating assets, and more. Asset auditing hardware makes it simple by enabling you to perform the following tasks:
Validate that your equipment & assets are authorized
Identify process or structural gaps
Meet mandated compliance and financial reporting audit requirements
All with 100% audit accuracy.
Retire and Depreciation of assets
An asset must be disposed of at the end of its useful, productive life. Before its disposal, the relationships are reviewed and processed so that it does not affect the organization or the environment.
This stage includes the removal of any business-critical information on the asset.
It is then disassembled part by part, with all pieces that can be reused is retained and those that cannot be reused being scrapped. If the asset contains any components that may pose an environmental threat, they are classified as hazardous and eliminated.
Conclusion
Hardware asset audits enable you to track your operations, manage assets lifecycle, reminders for renewals are coming up, calculate maintenance cost, manage employee work on a real-time basis, updates status, and more. Start cutting costs, saving time, and making smarter buying decisions today! Manage your assets well and improvise business productivity graphs. Consolidating all your assets add tremendous value to your organization, especially when it's time to plan technology budgets.