Help desk software plays an important role in modern business platforms to ensure good productivity and efficiency. Business without the help desk software is challenging, when dealing with high volume communications, whereas help desk software aims to help and manage the workload. But finding the right help desk software will become another challenge because there is much software which provides help desk services. Consider below requirements when selecting the help desk software.
"A better help desk software takes your business to the next level"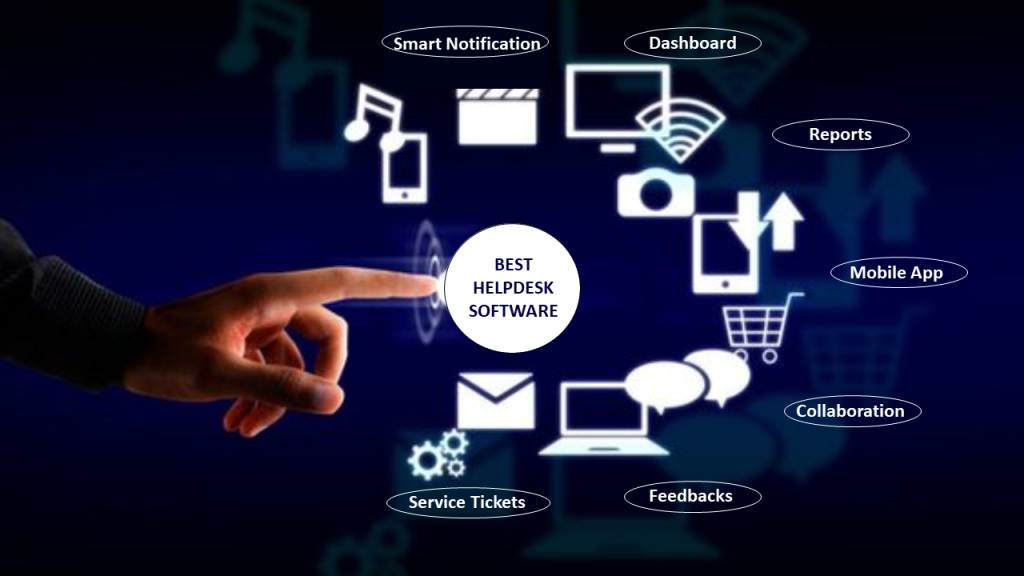 Requirement of the best help desk software
Report and Dashboard
The dashboard provides quick insights into the ticket traffic, it's status and performance. Additionally, the dashboard should give a personalized view of the different users based on their access. This will help them to identify and understand where they have to focus on. Similarly, getting reports for all the major functions like escalation, merging, overdue will be an added advantage because it will provide a clear view of the current state of the business and help to find bottlenecks before they happen.
Effective Ticket Management
Effective ticket management tracks the entire ticketing system and solves it based on the priority. All information is not required for the customers. Hence it will be effective if it has customization in it. Collaboration with another team within the tool is a another required feature. So that quick resolution is always possible for the customers. Overall the software should provide all the ways to simplify the work with its features like
Email-based ticketing
Ticket merging
CC recipients
Problem categories
Back trail conversation
Timer to track TAT
Auto assigning capacity
Collaboration
Mobile support
Today customer experience is largely about mobile capability. The help desk will be more effective when providing mobile access. Hence they can create new tickets on the fly and make quick updates, access to the service desk wherever they need. In the meantime, agents can catch up with tickets and clean up their queue anywhere is also possible with the same. So that they can be more productive for the business and clients. Your business will be in the next step when staying ahead with full access to the help desk.
Smart notification
Businesses communicate in a variety of ways. It may vary depends on the corporate. Even though a variety of communications available, smart notifications have a major impact on any app or site's user experience, Additionally, smart notifications can help you in sending real-time updates and reminders that increase the user engagement. Along with the user engagement indirectly it will help for retention, growth and convey essential information to both internal and external users.
Benefits
Enhanced Efficiency
Managing all the conversation in one place is only possible when you are using the best help desk software. It serves as a centralized location for all customer communications. For example, if a customer calls or visits a website portal, they will be redirected to the service desk. If they send an email request or chat to the agent, again the customer will redirect to the same service desk. Using the help desk software with a ticketing system makes your organization workflow more efficient.
Save time and boost productivity
By implementing the automation features of a service desk, employees get the job done faster and with greater ease. Instead of sorting through information to see which tickets are the most important, the help desk software prioritizes them for you. Spend less time communicating about the issues with the team by the use of the advanced features.
Collaborate with team members
Tracking, prioritizing and effective collaboration with other teams is the another benefit. Hence the agents can efficiently communicate via email or within the help desk software to get involved in solving customer questions solving customer support tickets.
Feedback analysis to get more insights
Best help desk software predicts how likely the customers are to be satisfied with their support experience. Giving the best customer experience is not possible when you not trying to find out what your clients think about your service, you will never be able to give them the best customer experience. Customer feedback helps improve products and services, analyzing customer satisfaction range and so on. Meanwhile, it helps to take important business decisions.
Stay ahead in your business with the full access of advanced features, reporting, analytics and performance indicators with the software like IT Asset Management which has fulfilled all these requirements.