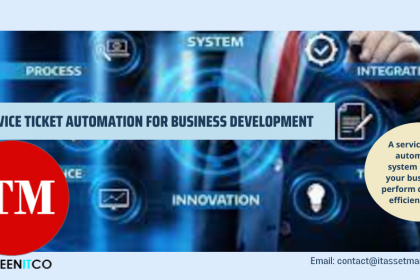 It has become essential for businesses to keep up with consumer trends. A service ticket automation system enables your business to perform quick and efficient roles. It assists to improvise CSAT scores, multitask scores, managing teams, and improvise workflow efficiency.
Service ticket automation can create a positive impact on customers' experience. Researchers claim that customer service plays a significant role in determining their loyalty to a brand. Building the brand and gaining customers' trust for your services depends on the customer service your business offers to the customers. Researchers have analyzed that customers prefer companies that value their time while providing customer service. Some of the features are a must for every business should have to get better CSAT scores and customer retention strategies.
Benefits of Service Ticket Automation for customer service
Automated Ticket solutions help in contextual responses offering a smooth customer service experience. It helps businesses increase CSAT scores, improve ROI, increase customer onboarding & customer retention levels, etc. To keep customer satisfaction increasing overall. The profitability in customer service operations plays an important role.
Use cases of ticket automation
A ticketing system helps customer service/ customer support teams to manage service requests/incidents and tickets. The role of ticket automation is to get a ticket assigned, resolve the issues, and other perform operations in an automated manner.
The rising demand for on-time customer service creates pressure on customer service/customer support teams. It increases the workload and makes the work hectic for them. One way to ease the pressure is to equip customer service agents/customer support agents with an automated system. A service ticket automation is a tool that can help them stay organized and handle any volume of customer service cases easily.
Check some Service cases of service ticket automation :
A ticketing system helps customer service teams manage service requests and resolve them within the given timeline.
Check out some use cases of ticketing automation applied in your business.
Automation of alerts to manage team coordination & events
Automation helps you quickly resolve events that potentially impact revenue & efficiency. The service desk system lets you build processes and notifications, and alerts. It specifies the rules to prepare the team, by managing details to resolve major & minor events. By automating alerts, technicians can better focus on ticket resolution.
Accelerate ticket resolution time
Service Desk ticket automation helps to categorize the IT team's tasks and make them accurately select the right category and subcategory for tickets to resolve. They can work with data and response times by allowing to automatically categorizing, route, prioritizing, and escalate tickets to resolution.
Build automated streamline workflows processes
Automated processes can remove hindrances and bridge communication gaps. Automation is applied to simple tasks that have repetitive occurrences in your business. Accordingly, you can apply automation on tasks like ordering a device or attendance and customer support. It regulates processes while increasing consistency, reducing errors, and accelerating tasks.
Ticket Routing automation
Automated ticketing systems route service tickets to agents based on predefined rules. Rules on the specific logic that routing of the ticketing system through the right channel. Ticket routing includes n query keywords, previous interaction history, and others, depending on the ticketing logic. Along with a live service agent, route tickets to customers or a customer service chatbot.
Ticket Closing 
Most service ticket system tickets are closed at once. Once the ticket is resolved the status is marked as closed.
There are cases when service tickets stay open for extended periods or remain unattended by the customer's approval. An automated ticketing system can help keep your ticket database by closing tickets according to predefined rules.
Ticket alerts Automation
Service ticket alerts consist of events, customers, ticket status updates, and more. Automated ticketing systems come with an alert feature. This feature sort to up-to-date regarding important service ticket milestones and events. Customization of alerts according to urgency and priority.
Ticket analytics
Each customer service ticket leaves behind a path in the form of email chains, chat logs, status updates, reports, and other data. The data can be a source of insights for service optimization. A ticketing system helps you gather and analyze data in a systematic form.
There are many use cases where the automation of service tickets can be helpful. To understand what exactly the customers are looking for, contextual solutions. It enables ticket management systems to manage multi-task and team coordination and efficiently handle major customer service tasks. Service ticket automation makes the ticket management system process simplified.
Impact of Automated Ticket resolution on different personas
The needs of the service agents and to organize data and the leads in the system. With Automated ticket resolution.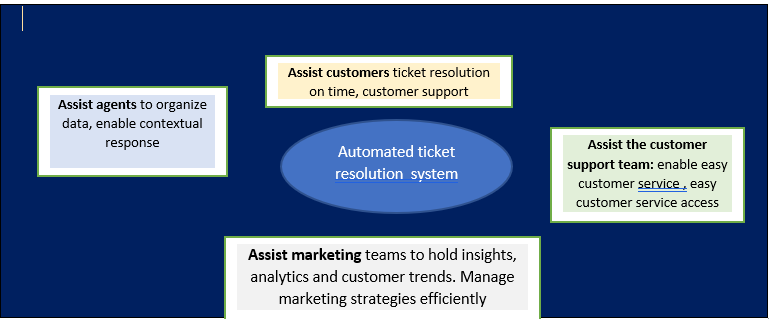 Management of a flooded of customer service tickets can be one tedious job. It offers automation and customized solutions to make jobs easier and more efficient.
Automated ticket distribution can positively impact your team's performance and profits. To resolve tickets within the timeline and enhance customer satisfaction scores.
Deploying a helpdesk system for your business is a better option for business.