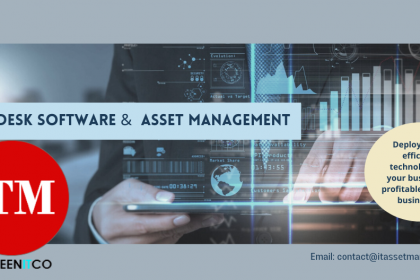 Helpdesk software solution with asset management is one of the most convenient approaches to smoothen business workflow operations. Helpdesk software solution with asset management is one of the most convenient approaches to smoothen business workflow operations. A convenient asset module with helpdesk software. It is an instinctive, adaptable, and easy-to-use software solution. It is a unified approach to automating tasks and handling multi-tasks to generate better outputs.
To manage the basic operations like assets management, their quantities, depreciation value, an asset in use, and more. Monitoring the operations and automating the workflow to give a better user experience. It can be a flexible tool.
Actions are what define steps within the business process and determine when to perform them. As the project moves ahead in the process of completion in the asset lifecycle. The properties keep on changing. Some changes are simple like updating object status and some changes can be complex, for example updating object status, triggering the workflow, sending notifications, running commands, etc. Implementing all changes to automate the workflow and improved efficiency.
Manage workflow operations with asset management
Help Desk software solution with asset management enables the system to automate workflow and controls action at object lifecycle based on roles in the process. This not only maintains the consistency of the workflow but also simplifies employees. Manage daily tasks by providing relevant options, and coordinating among the workforce in a timely. Click on appropriate action, fill out the action form and focus on work.
To sustain business operations and to make it grow ahead in the competition. To manage the operations and set an easy workflow to make the teamwork efficient. Deploying helpdesk software with an asset management solution can make you reach your business goals on time.
To record activities of IT and non-IT assets with help desk software with asset management can help you to face the challenge and succeed. Deploying the apt technology for managing operations is the right choice to make for the business. Ticketing software enables to the discovery of all assets, categorizing them, and monitoring and tracking, regular updates automatically.
Features Helpdesk software with asset management offers for your business
Are you battling with spreadsheets?
To manage records, managing large asset inventories, and categorizing them for a huge customer base is a challenging task.  Have a look at the following features to explore the benefits of deploying Helpdesk software with IT asset management.
Manage customer information
Managing customer information is a big task. The customer's interaction with your product, which customers produce more revenue, tracking & monitoring them. IT Helpdesk software makes it easy to manage information and centralized data & dashboard. Help desk software with asset management enables to manage assets, track tickets, assign roles, automate tasks, centralize data, and more. This makes the owners make smart and strategic decisions.
Asset management solution automates the work process and provides the information details required to accomplish the tasks.IT help desk software with asset management tools to keep customer information organized and provide high-quality support.
Custom Fields
Helpdesk software allows you to manage tasks by raising tickets to coordinate the workforce tasks. Along with custom fields to manage assets like price, purchase dates, warranty, last service date, assigned to which technician, etc. Custom fields come into use to manage assets when assets are imported or exported into the helpdesk software efficiently.
Automation
Asset management can automate workflow, automate actions based on roles in the processes. It enables to automate the work process, make it look more simplified, and provides relevant options to the technician to make them easy to work with and improve accuracy. Helpdesk automation software aims to ease the workflow, improve customer experiences and improve the efficiency of work which eventually gives the best results ROI for your business
Incident History
This system enables you to manage assets with help of tickets in just a few clicks. For example, a user submits a ticket saying "the laptop has some issue in working". You can use the laptop asset involved in the ticket, later on, if the user complaints any issue with his laptop. You can view the incident history of that particular asset and fix that accordingly by technicians, incident history keeps the record of the issues, complaints, updating, etc that have been performed on the particular assets with help of tickets. Helpdesk software solution with asset management is what plays the role here. Without it, it becomes a challenging task to manage huge assets and resolve the issue on time. Asset management can be a powerful tool that helps you to improve the quality of your customer service.
Streamline the workflow
If automation of the workflow can improve accuracy and complete the tasks quickly. Then automation is the best choice to make the system more efficient and can be cost-effective. If the automation of workflow is applied efficiently to enhance the productivity, accuracy, efficient work process, improvise customer experience, and improvise ROI for the business. Its cost-efficient and can improve customer status faction with your business. All you need is to click the appropriate action, fill in the action form, and focus on your work again.
Performance Analytics
If you can measure performance analytics, make sure your business tracks performance indicators. Performance metrics like to Improve service delivery and user experience with performance analytics powered by flexible dashboards and customizable reports. Measure how your team is performing, ongoing trends, key metrics, and with flexible dashboards with few clicks.
Customize billing
Billing and placing orders are the most important work in your business. You can't afford any mistakes in this section. So, to make the accuracy of billings, purchase orders should be done simultaneously along with helpdesk software solution works. The software is designed to enable you to manage bills, and assets, sort the purchase orders, etc with accuracy at work. You don't have to compromise your other work to manage bills, you can do it simultaneously with
Help Desk support
With just a few clicks helpdesk software with asset management enables tracking time, managing tasks, raising tickets, resolving issues, asset management, and more. Drive notifications alert technicians to status changes or new tickets, so they're informed, manage the information, and more. Centralized the customer management and asset management information so your technicians can use them for outstanding service no matter where they are. Managing customer queries, resolving the issue within the timeline and monitoring the process, and more.
Resolve issues quickly with Ticketing Tools
Whenever the customer raises a ticket or service request, they expect the team to fix the issues as soon as possible. The workflow of the ticketing process should be efficient and perfect. IT helpdesk software with asset management can ease the tasks boosts productivity and offer a better customer experience. Each ticket includes time tracking for custom ticket status, set ticket priority, and tracking where the ticket is in your workflow.
Conclusion
Make your system more flexible, and offer customers better service with IT helpdesk software solutions and asset management combination. Deploy flexible solutions, manage the workflow operations, automate tasks, and digitize form. Monitor tasks, resolve tickets,  manage the bill, and much more. Deploying an efficient technology for your business is profitable for your business. Focus on work and let the software manage the workflow.