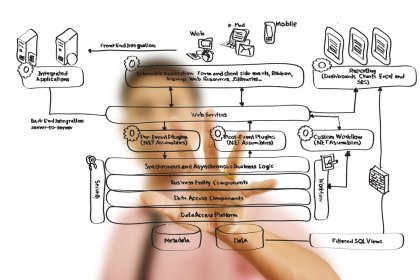 System Admin tools to cut cost and organize your department starting from erp to #itassetmanagement.in
A curated list of amazingly awesome open source sysadmin resources inspired by Awesome PHP
Backups
Backup software.
Backup libraries.
Backup – Provides an elegant DSL in Ruby for performing backups on UNIX-like systems.
DREBS – AWS EBS backup script that supports strategies.
Cloning
Cloning software.
Clonezilla – Partition and disk imaging/cloning program.
Fog – Another computer cloning solution.
Redo Backup – Easy Backup, Recovery and Restore.
Cloud Computing
Cloud Orchestration
Cloud Storage
Code Review
Web Based collaborative code review system.
Gerrit – Based on the Git version control, it facilitates software developers to review modifications to the source code and approve or reject those changes.
Review Board – Available as free software under the MIT License.
Collaborative Software
Collaborative software or groupware suites.
Configuration Management Database
Configuration management database (CMDB) software.
Configuration Management
Configuration management tools.
Continuous Integration & Continuous Deployment
Continuous integration/deployment software.
Distributed File-systems
Network distributed file systems.
DNS
DNS servers.
Hosting Control Panels
Web hosting control panels
IMAP/POP3
IMAP/POP3 mail servers.
IT Asset Management
IT Assets Management software.
IT Asset management (#itassetmanagement.in) – Asset & license management software with barcode print option.
GLPI – Information Resource-Manager with an additional Administration Interface.
OCS Inventory NG – Enables users to inventory their IT assets.
RackTables – Datacenter and server room asset management like document hardware assets, network addresses, space in racks, networks configuration.
Ralph – Asset management, DCIM and CMDB system for large Data Centers as well as smaller LAN networks.
LDAP
LDAP servers.
LDAP management
Log Management
Log management tools: collect, parse, visualize …
Monitoring
Monitoring software.
Metric & Metric Collection
Metric gathering and display software.
Network Configuration Management
Network configuration management tools.
GestióIP – An automated web based IPv4/IPv6 IP Address Management tool.
RANCID – Monitors network device's configuration and maintain history of changes.
rConfig – Another network device configuration management tool.
Newsletters
Newsletter software.
NoSQL
NoSQL databases.
Column-Family

Apache HBase – Hadoop database, a distributed, big data store.
Cassandra – Distributed DBMS designed to handle large amounts of data across many servers.
Hypertable – C++ based BigTable-like DBMS, communicates through Thrift and runs either as stand-alone or on distributed FS such as Hadoop.

Document Store
Graph
Key-Value
Comparison of NoSQL servers: http://kkovacs.eu/cassandra-vs-mongodb-vs-couchdb-vs-redis
Packaging
Queuing
Queuing software
Queuing libraries
ZeroMQ – High-performance asynchronous messaging library.
RDBMS
Relational DBMS.
Security
Security tools.
Denyhosts – Thwart SSH dictionary based attacks and brute force attacks.
Fail2Ban – Scans log files and takes action on IPs that show malicious behavior.
SpamAssassin – A powerful and popular email spam filter employing a variety of detection techniques.
Service Discovery
Consul – Consul is a tool for service discovery, monitoring and configuration.
Doozerd – Doozer is a highly-available, completely consistent store for small amounts of extremely important data.
ZooKeeper – ZooKeeper is a centralized service for maintaining configuration information, naming, providing distributed synchronization, and providing group services.
SMTP
SMTP servers.
Software Containers
Operating system–level virtualization.
Bitnami – Produces open source installers or software packages for web applications and development stacks as well as virtual appliances.
Docker – Open platform for developers and sysadmins to build, ship, and run distributed applications.
OpenVZ – Container-based virtualization for Linux.
SSH
SSH tools.
Statistics
Analytics software.
Ticketing systems
Web-based ticketing system.
Troubleshooting
Troubleshooting Tools.
mitmproxy – A Python tool used for intercepting, viewing and modifying network traffic. Invaluable in troubleshooting certain problems.
Sysdig – Capture system state and activity from a running Linux instance, then save, filter and analyze.
Wireshark – The world's foremost network protocol analyzer.
Project Management
Web-based project management and bug tracking systems.
Version control
Software versioning and revision control.
Virtualization
Virtualization software.
VPN
VPN software.
XMPP
XMPP servers.
Webmails
Webmail applications.
Mailpile – A modern, fast web-mail client with user-friendly encryption and privacy features.
Roundcube – Browser-based IMAP client with an application-like user interface.
Web
Web servers.
Web Performance
HAProxy – Software based load Balancing, SSL offloading and performance optimization, compression, and general web routing.
Varnish – HTTP based web application accelerator focusing on optimizing caching and compression.
Wikis
Wiki software.
Resources
Various resources, such as books, websites and articles, for improving your skills and knowledge.
Blogs
Books
Sysadmin related books.
Editors
Open source code editors.
Newsletters
Servers for Hackers – Newsletter for programmers who find themselves needing to know their way around a server.
Repositories
Software package repositories.
Dotdeb – Repository with LAMP updated packages for Debian.
Remi – Repository with LAMP updated packages for RHEL/Centos/Fedora.
Websites
Useful sysadmin related websites.
Ops School – Comprehensive program that will help you learn to be an operations engineer.
Digital Ocean Tutorials – A surprisingly vast resource for getting the basics of certain applications, tools, or even systems administration topics.